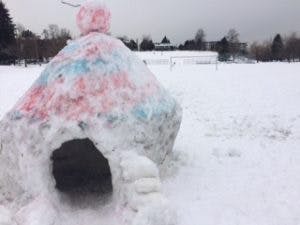 West Coast Winter 2016/2017
… has been a little much for me this year.
I took this photo at China Creek Park in Mount Pleasant yesterday. We're not supposed to supposed to have enough snow to build a snow house!  It was beautiful for the holidays, but It's February – time for cherry blossoms.
I thought I'd share a few ideas for coping with the rare cold and snow to get us through this last stretch.
Hot Spots in Vancouver Centre.
Here are my favourite warm indoor pursuits that get me out of my cozy townhouse and offer comfort and relief from cold feet, frosty breath, and slippery roads.
Hillcrest Pool – Main Street
I go around the dinner hour to avoid the crowds. I might swim a lap or two to justify the next 90 minutes of sitting. Sauna first, followed by the steam room, and then the hot tub. There's a place I sit and look out a picture window and see the snow gently falling. The snow is absolutely beautiful to look at when I'm toasty in the hot tub. Very serene.
Moksha Hot Yoga – Kitsilano and Mount Pleasant
I like to go to the Mount Pleasant studio and the instructors are just wonderful. There's nothing like trudging five blocks in the ice and snow to lie down in a hot silent room and feel the warmth and community. Like a 90 minute vacation.
Vancouver Aquarium – Downtown/Stanley Park
The kids love it, and the Tropic Zone is a place to find some welcome heat and humidity during this harsh winter. And sloths. You can also find sloths.
Enjoy these, or find your own Vancouver hot spots to get you through. Spring is around the corner!